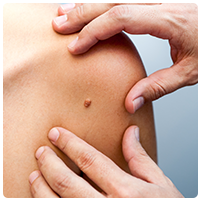 SKIN CANCER REMOVAL
Skin cancers are extremely common and are usually basal cell or squamous cell carcinomas. Melanomas, the more serious of all three types, are becoming more and more prevalent with the use of tanning beds.
All three types of these skin cancers can be completely removed without needing chemotherapy or radiation, if they are caught and treated early. Most skin cancers can be detected by a dermatologist, internist, or family physician.
If you are over 50 and/or have a family history of skin cancer, it is a good idea to have a "whole body skin check" by a board-certified dermatologist.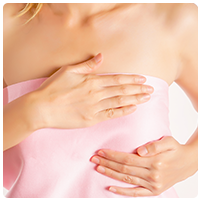 BREAST CANCER, BREAST RECONSTRUCTION SURGERY
The physical changes from breast cancer surgeries, pregnancy, or weight loss, even if they are not severe, can be harmful to a woman's psychological well-being. Reconstructive surgery aims to cushion the emotional impact of this surgery by reversing some of the physical changes. Most women who have this relatively minor surgery go home the same day and feel back to normal after two to three weeks. If you've had a mastectomy, we can use one of several techniques to recreate the size and shape of your breast. One method involves placing a silicone implant under the skin, either on top of or below the muscles of your chest wall.
Services Include:
Breast Augmentation
Breast Reconstruction
Breast Reconstruction after cancer
Mastopexy (breast lift)
Gynecomastia Mammoplasty (breast reduction)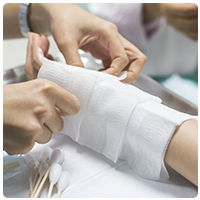 WOUND CARE
Providing specialized treatment for chronic or non-healing wounds, which are defined as sores or wounds that have not significantly improved from conventional treatments. Associated with inadequate circulation, poorly functioning veins, and immobility, non-healing wounds lead to lower quality of life and may lead to amputations. When wounds persist, a specialized approach is required for healing.
With state-of-the-art treatments available including debridement, dressing selection, special shoes, and patient education, people with non-healing and chronic wounds now have a place to turn. We use an interdisciplinary model of care, including infectious-disease management, physical therapy, occupational therapy, laboratory evaluation, nutritional management, pain management, diabetes education, and other areas to address total patient health.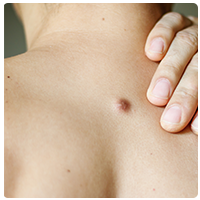 SUBCUTANEOUS AND LIPOMAS
Subcutaneous cysts are most commonly found on the head, neck, or torso, the cysts are firm, round, and moveable, and grow slowly. Typically caused by injury to a hair follicle or other damage to skin. If a cyst becomes infected or if you are bothered by it for any other reason, it can be surgically removed. This is a simple procedure, but usually requires stitches. If it is simply drained, it will probably grow back.
Lipomas can often look like cysts, but are benign fatty tumors. Your doctor will often be able to tell you whether you have a cyst or lipoma by just its look and feel, though you may need an ultrasound or other tests for a definite diagnosis. Lipomas don't need to be removed unless they are unsightly or uncomfortable.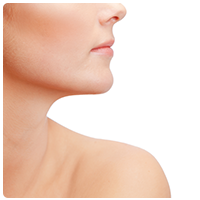 COSMETIC SURGERY
Facial and neck creases, lines and wrinkles, loose and sagging skin—all these can change the way we look as we age. These effects can happen even sooner for people who have had lots of sun exposure. Cosmetic surgery can improve these signs of aging, and help put your appearance and confidence more in line with how young you feel.
Plastic surgery is a personal choice and should be done for yourself, not to meet someone else's expectations or to try to fit an ideal image.
Services Include:
Facelift/Necklift
Upper and Lower Eyelid Enhancement
Liposuction
Abdominoplasties (tummy tuck)
Injectables/Fillers for face and lip(s)